updated February 27, 2015
Dual Lite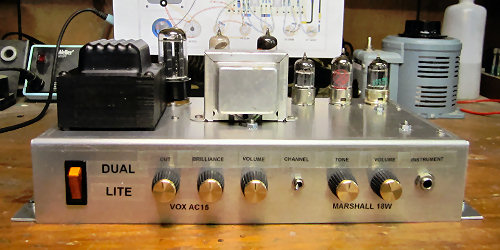 This amp is actually a combination of a couple projects I did some time ago. You may remember my Hammond AO-39 conversion? It was originally converted to a Marshall 18W Lite II-B, then later on reconverted to a Vox AC-15 Lite. I liked both of those conversions but the AO-39 layout just would not allow me to neatly do both in the same box.
So, the AO-39 conversion was retired and became a donor for the new Dual Lite. Actually, all I reused were the tubes and transformers. The Dual got a new small chassis with a layout that looks a lot like my Plexi 6V6. I've included a side by side picture so you can see the similarities. I guess all my new stuff is beginning to take on this layout style. It has proven to be easy and trouble free so I'll be mostly sticking with this style.
As usual, I laid out the board with Visio. I decided to try Hoffman's sexy figure eight lacing for the first time. It was actually easier and faster than I had assumed it would be. I'll probably incorporate that lacing style in any future builds.
The individual preamp circuits are the same as I used in the AO-39 conversion, except each preamp feeds a different input on the LTP phase inverter. A DPDT switch toggles between the preamps. There is no provision for 'jumping' the channels. Simply use one or the other.
I had fun with this project. Best of all, I have both my lite amps back! Here are a few pics. Hope you enjoy... Steve
---

Hoffman's sexy lacing style. I'll be using this style in future builds.

Look familiar?


Rear view.

Top view. I'm getting comfortable with this typical layout.

Looks very 'lite' sitting on this Sunn Solaris 2 x 12 cab. BTW, this cab now has a pair of Celestion Heritage G12H speakers. One is 55Hz and the other is 75Hz. Plenty of British sound.


Side by side

Gut shot. (click pic for closeup view)

Another Vox stuffing!

Rear view with upper panel removed

Simple control panel
---
Here's the documentation... dual_lite.pdf (460KB)