updated May 9, 2016
Amp Cradle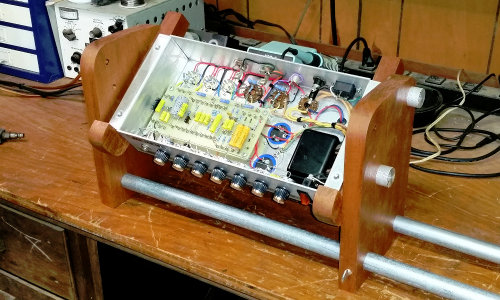 I've used a variety of props for amp chassis... wood blocks, bricks, even paint cans. If you're like me and build an occassional amp, you probably feel that a cradle is a luxury that you can do without. People who build or service lot's of amps know that a cradle is as important as a workbench, or DMM.
So, this spring I find I don't have any amp projects in mind, and now that the garden is up and running and yard projects have slowed down, I headed back to the shop for some light duty project. I decided I would finally build a cradle and quit fumbling for stuff to prop an amp on.
But which one? I wanted something simple, cheap, and easy to build. After looking at quite a few cradle designs online I realized there was a wide variety, from primitive to showcase quality. I borrowed some features from several, mixed in some ideas of my own, and this is what I came up with.
Materials list:
| | | |
| --- | --- | --- |
| 2 ea | | 1 x 6-1/2 x 10 ends |
| 2 ea | | 1 x 1 x 10 support arms |
| 6 ea | | 1/4 x 20 brass threaded inserts (drill 5/16 holes) |
| 4 ea | | 1/4 x 20 x 2-1/2 bolts (cut heads off) |
| 4 ea | | cheap knobs |
| 2 ea | | 1/4 x 20 x 1 thumbscrews |
| 2 ea | | 26" 3/4 EMT (drill 15/16 holes) |
I used scrap mahogany from my shop. If I had to buy dimensional lumber I'd use 2 x 8 and 1 x 2 material. I had all materials on hand except the thumbscrews. Oh well, I needed to run to Lowe's anyhow.
This cradle will accommodate most chassis that are 0" to 24" long. If I need longer, I'll just cut two more pieces of EMT. The arms are adjustable with four posi-stop holes indexed at 0°, 20°, 40°, and 60°. I suppose the downside is not having continuously adjustable tilt. The upside is never having to worry about the arms slipping and accidently cracking your tubes.

The left side is pinned to the rails with recessed screws through the bottom. The right side slides on the rails and is locked into position with two thumbscrews. The support arms are attached with 1/4 x 20 bolts and threaded inserts. I cut the heads off the bolts and used four cheap knobs for easy turning. All you have to do is just snug them to hold the arms securely.

I applied one coat of clear wipe-on poly just to give the mahogany a wet look. It took longer to round up all the scraps and hardware than it did to completely build this. I guess now I'll have to come up with another project. Probably wait until winter though.

---

This simple design is very functional and sturdy. It's also quick and easy to build.

Thumbscrews and knobs lock everything securely in place.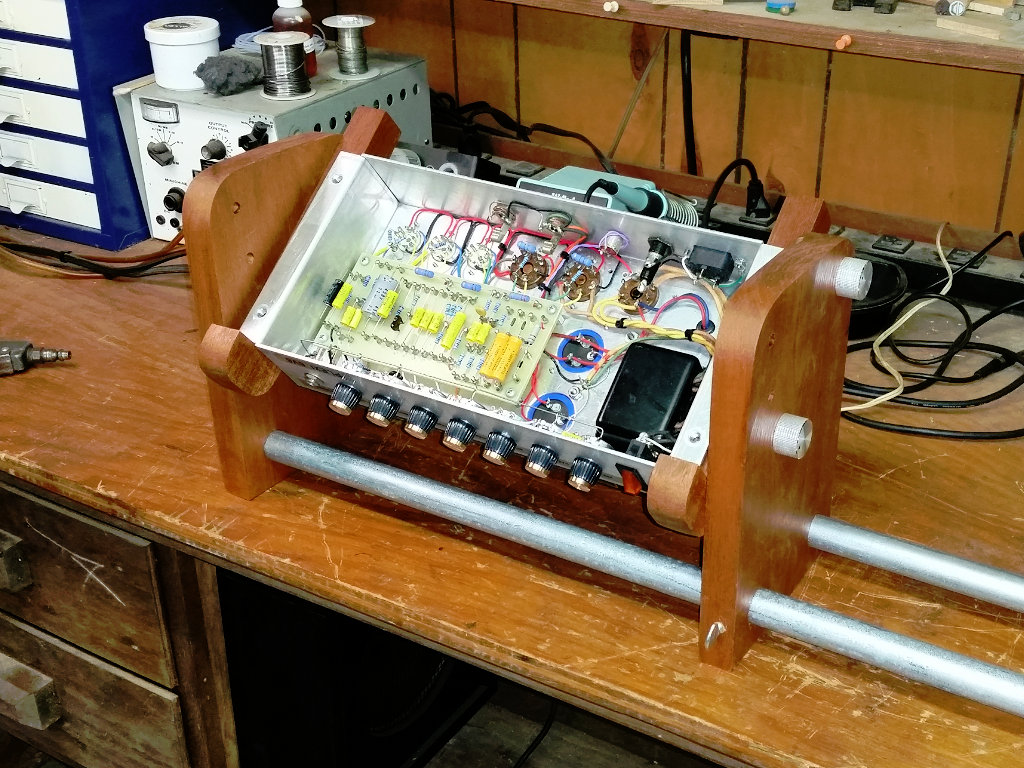 Four posi-lock tilt positions provide easy access for chassis work.

Cut the support arms to 10" length and put a pencil line 1" from one end of both arms. Now glue the two pieces together with the pencil lines aligned. When glue is dry, cut on the pencil line to create the two support arms.
Watch this short video to see how easy it is to properly install the brass threaded inserts...
https://www.youtube.com/watch?v=tIhEqoKE8Dc
---