September 01, 2013
PeeWee Hammond (AO-44 conversion)
The Hammond AO-44 is a small cathode biased push/pull amp using a pair of ECL86/6GW8 tubes. It also has some very respectable iron. Hammond used this amp for a foldback reverb system in the M-100 series organs. This foldback reverb system gets it's input from the main amp speaker and connects that input through a volume compressor directly to the input of a Gibbs reverb tank. The output of the tank connects to the AO-44 amplifier which feeds a dedicated speaker for the reverb signal.
I picked up this little amp from eBay several years ago when Geezer had first built his Little Wing amp. I had intended to use it as a donor for a small undetermined project but it kept getting trumped by other things. Then I lost interest in a small low wattage amp.
A year later I got the bug for a reverb project. I connected the AO-44 as it was intended to be used, ie, my amp speaker drove the input of the AO-44 with original Gibbs reverb tank. The AO-44 output went to it's own dedicated speaker. I was impressed with the sound of this reverb system! The plan was to put the AO-44 in a 5E3 cab with a 12" speaker. Then I'd have a dedicated reverb amp that could easily be connected to any other main amp. Trumped again! And it ended up on the top shelf of a storage cabinet.
Last week while doing some house cleaning and organization, I pulled the little amp out once more and set it on the bench while I shuffled junk in the storage cab. The idea of a dedicated reverb amp was totally dead since I had recently built a Revibe unit. But I decided to play around with the amp anyways. When the plan finally came together I had decided to put an AB763 preamp in front of the power amp.
I began by removing the Volume compressor and transistor circuitry, a couple terminal strips, and some other connectors and hardware. I had enough room to add a tube socket and tone stack without having to molest the power amp. After about a week it was done and I fired it up. The only problems I had were the Alpha pots. The pots were new but had been sitting in my non climate controlled shop for several years. All of them had oxidized to the point that the wipers would lose contact at certain points of rotation. A good bath with DeOxit fixed that.
This little amp has a lot of volume on tap. It could easily be used in a small venue. There's plenty of bottom thump, especially with my 15" Big Ben. I actually removed the typical Fender 25µF cathode caps to reduce the bass. Lot's of high end sparkle too. It's very much like a blackface but only lower power.
Here are some pics...
---

Stock Hammond AO-44 front view

Stock Hammond AO-44 rear view

Stock Hammond AO-44 bottom view (click image for high resolution)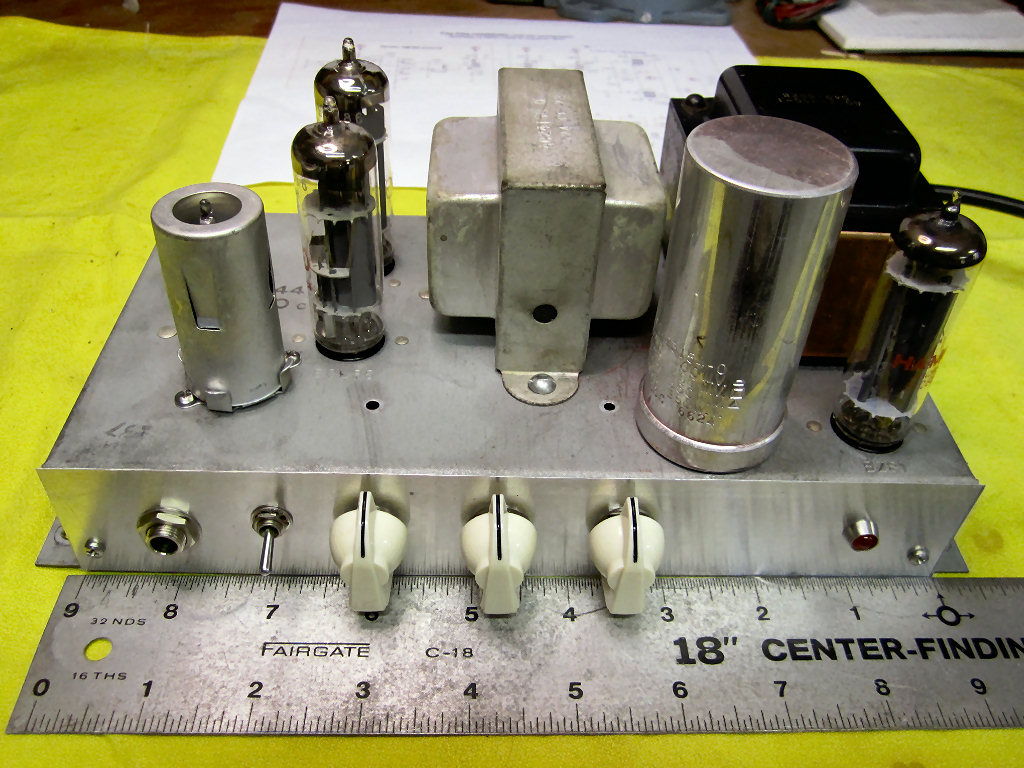 PeeWee front view

PeeWee rear view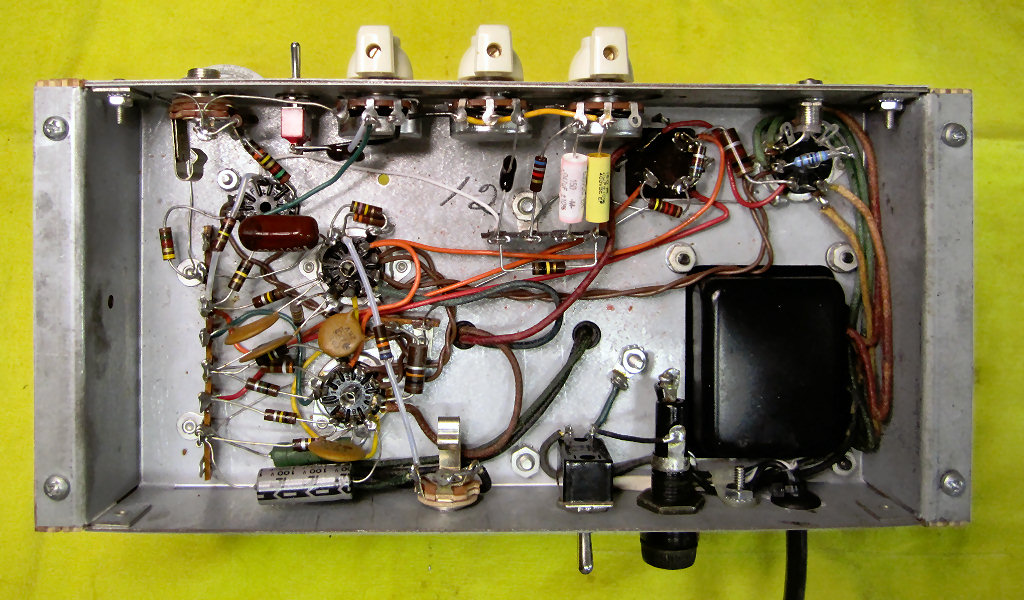 PeeWee bottom view (click image for high resolution)
---
Download the original schematic and my conversion schematic in a single PDF. PeeWee.pdf 142K